1993 is a very good year for me, as it's when I began watching races. At that time, only Winston Cup, though...I may have seen some Busch races, but I don't remember any if I did. (The earliest Busch race I remember seeing was one when Mike Wallace won in the #9 FDP car on concrete...but I don't remember which track it was)
Most of my 1993 collection was purchased later, though. Essentially, if the car looked the same as it did from the 1992 issue, I didn't get a new one. That is, in fact, why I don't even have a copy of the car that won the first race I ever saw! (Dale Jarrett #18 Interstate Batteries) When I did purchase them later, I went with the Premier line if I could- my all time favorite line of cars. I have only a handfull of the Racing Champions basic cars from 1993- and when I did this whole picture project, I realized there were some that I still need to hunt down, in either basic or Premier versions, or, if I'm lucky (IE, they come cheap)- both! For some reason it's easier to see what's missing when you are looking at pictures instead of words on Excel.
Dale Earnhardt won his 6th Winston Cup in 1993, despite the fact that Rusty Wallace won 10 times that year, his personal best. I will never forget Rusty's two flips at Daytona and Talladega. I knew I loved the sport on that day after Christmas in 1992- but it was that Daytona race that made it the most important thing in my life.
Jeff Gordon won Rookie of the Year, although he didn't win any races. (which, at that time, Rookies weren't supposed to win races! He beat Bobby Labonte and Kenny Wallace for the Rookie title, although Rich Bickle, Rick Crawford and TW Taylor were also declared for Rookie of the Year. Crawford didn't even make a race, and the team stopped trying sometime during the early parts of the season.
NASCAR Winston Cup

Jeff Burton made his first Winston Cup start in the first New Hampshire race driving a #0 Ford for Filmar Racing that had been leased from Roush. He put it into the wall and finished, I believe, last. Joe Nemechek made his Winston Cup debut in the same race.



Racing Champions finally got the number color right on the #3.



Premier.



Matchbox. By the fact that those wheels were used, it must have been from one of their Convoy sets, although I bought it loose so I really don't know.



Dale Earnhardt from the QVC 30 Years of Champions set.



Ernie Irvan. Ernie left the #4 Morgan-McClure team to take over the #28 Yates Racing team after Davey Allison was killed in a helicopter accident, Ernie took over the #28 beginning at the Southern 500. The #4 car was then driven by a variety of people including Jeff Purvis, Joe Nemechek and Jimmy Hensley.



Ricky Rudd



Ricky Rudd from Revell. Revell was mostly out of it by 1993, which is very unfortunate, but they did issue a select few cars.



Mark Martin



Mark Martin



Mark Martin



Alan Kulwicki began the year as the reigning Champion, but was killed in a plane crash on the way to Bristol after only 5 races. Here we see the Racing Champions, RC Premier and Winner's Circle Lifetime Series car. I am not sure if the WC car is supposed to be the 1993 car or the 1992 season finale car; either way, it has 1991 contingencies which are wrong for the yellow tires; the 1993 car also had a black stripe, not brown, although that was not relflected in diecast.

After Alan was killed. there was a bit of controversy surrounding the team. Hooters, who lost two executives including the founder/owner's son in the accident, wanted to put Loy Allen in the car, who they had been sponsoring in other divisions already, namely ARCA. But new team owner Geoff Bodine didn't want any of that so Hooters pulled the sponsorship, and Jimmy Hensley was called on to drive the car for most of the 1993 season. Many (but not all) of the cars were made, mostly by Matchbox. (perhaps because Matchbox was one of the companies that stepped up to sponsor the car) Racing Champions also made some cars, although oddly, when Bodine moved into the #7 at the end of the year, none of his three schemes were made- or at least, if they were, I don't have them. I don't really know what order the Hensley cars go in so I'm just going to post them all. I'm going to start with the Cellular One car, which ran at Richmond, which was actually Hensley's last race in the car, because it's the only one that I got in 1993.


The Hanes car was driven at Charlotte, in the Coca Cola 600.



Tommy Kendall drove this car in both Road Races of 1993.



Sterling Marlin moved into the Stavola Brothers' #8 in 1993, the Matchbox exampe is one I got when new and one of my favorite Matchbox issues of all time.



Chad Little was still behind the wheel of the Melling #9 Fords in 1993. This was the last Racing Champions car to use a sticker for contingencies.



This Bill Elliott Premier issue was actually a promo, which came in a red box. I got it at a show in 1993, and it was the first alcohol sponsored car in my collection. And even though I got this when I was 8, I've never tasted a Budweiser to this day!



Jimmy Spencer drove Bobby Allison's #12 Fords during 1993.



Terry Labonte drove for Billy Hagan, who he won the 1984 Winston Cup with, for the final time in 1993. Labonte went winless for the 4th consecutive year. The Racing Champions car was one of the few 1993 cars I got in 1993. Note the Nevins car has the incorrect white letter tires.



Geoff Bodine began the year driving Bud Moore's Fords, but left late in the year to begin driving the #7 team, which he purchased. Lake Speed drove the car after Bodine left.



Wally Dallenbach drove Jack Roush's second car for the second, and final, year, in 1993.



Darrell Waltrip's car from Revell.



Dale Jarrett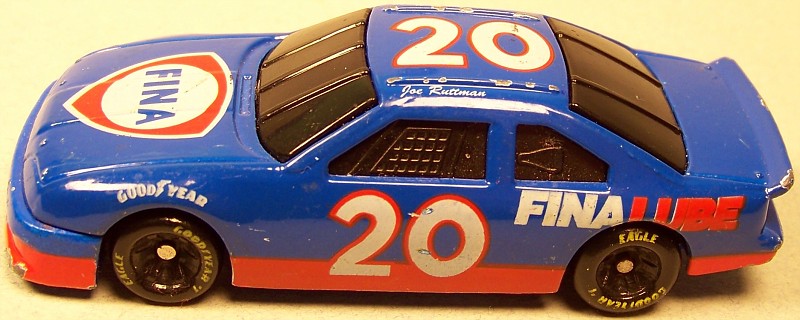 Joe Ruttman drove Dick Moroso's Fords during a partial schedule in 1993.



Ageless Crimefighter Morgan Shephard scored his fourth and final career Winston Cup win at Atlanta in 1993, in a race that was delayed due to the track being hit by a blizzard! Shephard also ran a special paint scheme in 1993, which saw an eagle on the hood with a smaller Citgo logo. While the first special paint scheme occured in 1968, 1993 is when they began to be used regularly.



Bobby Labonte drove Bill Davis's Fords during the 1993 season. Davis had purchased the team from Junior Johnson at the conclusion of the 1992 season, and would use the #22 for as long as he remained in the sport.



I got this one in 1993. I do have a spare, hanging on my wall!



I also got this one in 1993, and I also have a spare on the wall.



Jeff's first Action release.



This Jeff Gordon car is the 1993 scheme, but since it has roof flaps, the body could only be from 1994.



This is a second copy, but a copy of this Brett Bodine car was the first Premier car in my collection.



Hut Stricklin, which I got in 1993.



Hut Stricklin Premier without Mr. Pibb


Hit Stricklin Premier with Mr. Pibb



Hut Stricklin Happy Meal promo



Davey Allison



Ernie Irvan's #28 was made by Racing Champions at the end of 1993. I also have the Basic version but I have it hanging on my wall. Belive it or not, I actually don't have a 1993 Davey Allison car yet, although I am waiting on one to come in the mail that I purchased off this very forum!



Neil Bonnett drove this car at Talladega in the summer. He ended up flipping over the top of Ted Musgrave's Ford! Racing Champions issued this in the Premier line, and this was a very hard car for me to find- took a couple of years. It was Neil's first race since early 1990 when he suffered some severe brain injuries in a crash on track. This is indeed an RCR car.



Jimmy Horton drove the Active Trucking #32 Chevrolets during 1993. This car is probably most famous for flipping over the wall at Talladega, right out of the track! Horton left Winston Cup not long after that, but is still racing around the northeast.



Loy Allen drove this #37 as a second Tri-Star entry in a few 1993 races.



Kenny Wallace drove a second Sabco car in 1993, running for Rookie of the Year, but losing to a combined 5 Championships and over 100 career wins.



Kenny Wallace Racing Champions



Phil Parsons drove the Larry Hedrick owned Chevrolets through most of 1993.



Kyle Petty drove this special decklid at the 1993 Daytona 500, where he won the pole. Racing Champions made it as a PVC box promo.



Kyle Petty regular scheme.



Rick Wilson drove Richard Petty's #44 Pontiacs in 1993.



Jimmy Hensley drove the #44 Pontiac for one race only, when Wilson was injured, at Martinsville in the 25th race of the year. Surprisingly, Racing Champions made it in the Premier line! Note that the neon orange/red has cracked badly. That is because the car was left sealed for more than 15 years.



Al Unser Jr. made his only Winston Cup start in the 1993 Daytona 500. It was supposed to be in this, a fourth Hendrick Motorsports car. But, Unser wrecked in the Twin 125, and had to drive Ken Schrader's backup car instead. (He got in on time) This proved to be a very hard car to find. I chased the Action car from 1993 until 2006 when I got it, I got the Racing Champions version the same year, or perhaps 2007 (I didn't keep track then of when I got stuff) but I didn't know it existed until I had the opportunity to buy it!



Ted Musgrave. This car was seemingly impossible to find. I've never seen another for sale. And I had to "fight" to get this one! (I purchased it from a guy who only ever made 1 post on the now defunct Diecast Warriors board, and it took almost 4 months, and several emails back and forth, to get this and all the other stuff I bought from him! It was worth it though to get the cars, and we actually ended up not fighting and were/are on good terms, if he ever starts posting here or something like that. lol.



Mike Wallace drove this car in three races in 1993, although he DNQ'd for one of them. His best finish in the car was a 15th in the season finale at Atlanta.



Bobby Hamilton began the year in the Tri-Star Fords, although he parted with the team fairly early in the season. Greg Sacks and Loy Allen drove the car later.



Bobby Hamilton drove this reverse paint scheme at the Daytona 500. Yes, it really was neon pink!



Dave Marcis



Dick Trickle and Todd Bodine drove this car in 1993.



Lake Speed's self-owned Ford.



This car was owned by Thee Dixon, who is probably most famous for selling his ride to Darrell Waltrip in 2000, which for some unknown to me reason, caused a lot of controversy and hate for both of them. Jim Sauter drove this car in only one race in 1993, at Charlotte in October.



Joe Nemechek made a handfull of starts in 1993 before running for Rookie of the Year in 1994, mainly in his self-owned #87 Chevrolets. Joe ran this scheme at Watkins Glen and Michigan.



Bobby Hillin Jr. drove Junie Donleavy's Fords in 1993.



Derrike Cope drove the Cale Yarborough Motorsports entry during the 1993 season.



NASCAR Busch Grand National




Bobby Dotter was the first team DeWalt sponsored in NASCAR, and they would prove to be a mainstay sponsor afterwords.



Rodney Combs



Ward Burton drove both Buicks and Chevrolets for AG Dillard in the 1993 season.



Tommy Houston

Harry Gant drove several schemes for Ed Whitaker during the 1993 season, mostly in Chevrolets but also in Buicks in the French's scheme twice.


The Gulf Lite scheme was used at the first Dover race.



The French's Chevrolet was used throughout the 1993 season, with Gant driving it nine times with a best finish of second at Darlington in the spring.



Gant drove the Black Flag Chevrolet at Daytona to start the season.



The Easy-Off car was driven at the fall Dover race.



Gant drove this Woolite car at Talladega, but lost an engine after only 7 laps, finishing 41st.



Jeff Burton from Matchbox and Action. Action got the tires wrong, they should be yellow #1s. It's one of the very few "Historical" cars action has done, and the only one of Jeff Burton.



Mike Wallace



Terry Labonte



Hermie Sadler won the Busch Rookie of the Year in 1993.



Dale Jarrett



Mike McLaughlin (This may be a 1994 car)



Shawna Robinson. Note the split tire. Action had that happen a lot in their early days.



Ernie Irvan



David Green (PVC Promo)



Sterling Marlin



Robert Pressley



Mark Martin




Joe Nemechek. He also used this scheme in his first Winston Cup race, at New Hampshire.



Casey Elliott drove this car in his second and final Busch series start, at Charlotte in the fall of 1993. He crashed after 16 laps, and finished 44th in a 44 car field. Elliott, who was Bill Elliott's Nephew, died in 1996 at the age of only 22 to bone cancer
I have heard that when Elliott began his own team for the 1995 season, he used #94 in honor of his nephew. (It was known he would not have a long life). Bone cancer is one of the most painfull kinds of cancer there is, a member of my family had it, but died before I was born. But I've heard the stories. I wouldn't wish it on anyone.



Joe Bessey



Ricky Craven



ARCA




Jeff McClure. There is no relation between Jeff McClure and Eric McClure/Morgan-McClure motorsports.



NASCAR Busch North




Dick McCabe



Mike Stefanik



NASCAR Goody's Dash




Karen Schultz



Donnie Neuenberger



ASA



Unknown Series

Max Dumesney