1995 will probably be remembered as the year of the special paint scheme. It was not a new concept- the first documented special paint scheme is from 1968, and at least 3 from 1994, 1 from 1993 and 1 from 1991 have been documented, 1995 was when they became the thing to do. It was the 25th Anniversary of Winston sponsoring the Winston Cup, and at the non-points all star event known since it's inception, Dale Earnhardt and the #3 RCR bunch showed up with a silver car with black stripe and red graphics- essentially the reverse of his regular paint scheme. (I have been told that this was a scheme proposed for when GM began sponsoring the car in 1988. Apparently there is a book out there with a large two page spread showing this paint scheme on a Monte Carlo Aerocoupe. I don't have that book, and I've never seen the image. If anyone has it, PLEASE share it!)
1995 had some other goings-on as well. Chevrolet brought back the Monte Carlo nameplate, which had been dormant since 1989 (although still legal until 1991). The Monte Carlo name was introduced in 1970, made it's NASCAR debut in 1971, and while not the only Chevrolet model used throughout the 70s and 80s, it was by far the most common-and most successfull. However, it was retired in 1989 in favor of the Lumina. The Lumina was retired at the end of the 1994 season, although they were still legal until 1996- some teams continued to run them, especially in lower tiers.
The other big story was the Supertrucks. NASCAR announced in 1994 that they would run a pickup truck series, and it was wildely successfull. In 1995 and 1996, the Trucks were fairly well documented in scale, but it dropped off beginning in 1998. I had a hard time finding the trucks locally, and I know there's a half dozen or more I'm missing from 1995 alone. Mike Skinner, in the #3 GM Goodwrench Chevrolet from the RCR stables, won the Championship. I also consider it to be Brian France's only positive impact on the sport; Bill France Jr. did not think it was viable, but Brian convinced him of it, and the rest is history. I am generally not pleased with the direction Brian has gone since becoming top gun at NASCAR, but he got this one right.
Jeff Gordon won his first Winston Cup in 1995, beating the legendary Dale Earnhardt. (This also led to Gordon having milk-instead of the traditional wine- toast at the awards banquet at the Waldorf=Astoria!). Ricky Craven handily won rookie of the year, Robert Pressley gave him a good run for it, but the other rookies- Elton Sawyer, Randy LaJoie, Steve Kinser, Davy Jones, and Gary Bradberry all ran partial schedules.
For diecast, it was not a particularly good year. Racing Champions created all new tooling for the Chevrolet- twice- (the first is not very accurate and a new tool was created by mid season), Ford, and updated the Pontiac tooling. The Ford body was actually run in 1994 and 1995, but RC was a year behind. Seven and a half full time teams were not made, and with only around 35 full time teams, that is not a good record. (#s 23, 31, 32, 33, 40*, 43, 77, 98. Although the 43 was made in 1999, it's not on the right body)See the numerical listing for the 40 team.
1995 saw the first ever serially numbered cars- Racing Champions issued a set of six cars where the cars, display stands and stickers had matched serially numbered sticks on them. However, RC had some issues, and more often than not, the numbers did not match. The cars were standard Premier/Maxx versions. The series consisted of Mark Martin, Terry Labonte, Geoff Bodine, Bobby Labonte, Jeff Gordon, and one more I cannot recall. There was also a set for Trucks, and Indy cars, but I was not able to hunt them all down.
NASCAR Winston Cup

Dale Earnhardt



Dale Earnhardt Raced



Dale Earnhardt Silver. Note that several of the cars, including the Winner's Circle version, say Winston Cup on the decklid.



Dale Earnhardt silver "raced". Must be from early in the race, and Dale tangled with Darrell Waltrip and the car got destroyed.



Sterling Marlin.



Terry Labonte



Mark Martin



Mark Martin Brickyard 400 scheme. This scheme was a one race only deal for the Brickyard 400, but it would essentially become the basic scheme for 1996 and 1997.



Geoff Bodine



Jeff Burton early season



Jeff Burton Late season



Lake Speed



Ricky Rudd



Brett Bodine



Derrike Cope



Dick Trickle



Ted Musgrave. The second car is somewhat of a mystery to me. The paint scheme and body is clearly 1995, but basic release cars didn't have clear windows and plastic chassis in 1995. I also have a 1996 Michael Waltrip car using the 1995 body with clear windows, plastic chassis and wheels.



Darrell Waltrip



Bobby Labonte. Guess which ones I got when I was 10 or 11, and which ones I got when I was older? lol.



Morgan Shephard



Randy LaJoie



Ward Burton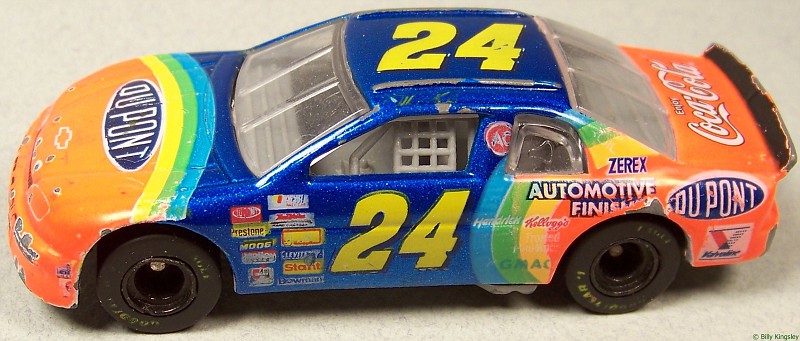 Jeff Gordon



Ken Schrader



Steve Kinser started the year in Kenny Bernstein's #26 Fords, but was gone after only a handfull of races (he made five of them). Kinser is the only NASCAR driver I've met. Hut Stricklin finished the year in the #26, which turned out to be the team's final year (1986 was the first)



Loy Allen



With Ernie Irvan out with massive injuries (see 1994 thread), Dale Jarrett was hired to replace him. It was a wise move.



This version of Dale Jarrett's car, from the Winner's Circle Lifetime Series in 2000, is the only time this body has ever been issued. It is the absolute best, most realistic body available for the 94-95 Ford, and is one of only a handfull of bodies to appear only in the Winner's Circle line, not the Action line as well.



Steve Grissom



Michael Waltrip Preview (on old body)



Michael Waltrip



John Andretti (sorry for the dust)



Various. This is a preview car, which is basically just the 1994 car with 1995 Preview Edition stamped on the chassis. Bobby Hamilton, who has his name on the roof, did not drive the car in 1994- many others did. (Greg Sacks, Butch Leitzinger, Shane Hall, Randy LaJoie, Andy Hillinberg, Rich Bickle...and that's just who made races! I think others DNQed it!)



Kyle Petty



Kyle Petty Halloween Pumpkin



Jeff Purvis



Gary Wright. This car was not allowed on the track by NASCAR due to sponsorship.



Dave Marcis



Todd Bodine



Kenny Wallace



Joe Nemechek



Ernie Irvan returned to the track, amazingly, at North Wilkesboro in October of 1995. Ernie was not expected to live, let alone race again, after his August 1994 Michigan crash. He drove this second car from the Yates stable is several late year races (with no owner's points he actually missed Wilkes due to a rain out of time trials).



Mike Wallace



Bill Elliott became an owner/driver in 1995. He never actually won a race as an owner, but this paint scheme is to me one of the iconic schemes of the 1990s.

There is also a version issued for his fan club only where the roof numbers are facing the other direction. I saw it on ebay recently but did not have the money for it, it was over $20. That version of the car was run in the Daytona 500 only, perhaps as an homage to his 1985 Winston Million winner where the roof number was placed on totally backwords.



Bill Elliott Thunderbat. One of my all time favorite paint schemes. This is one of only a few Hot Wheels cars issued pre-1997. Oddly enough, they actually were the only one to get the color of the interior correct!



David Green drove this car in the Busch Clash. For two years, the top Busch pole winner "won" a ride in the Busch Clash, and it happened to be Green both times. The car was fielded by Ken Schrader Racing.



NASCAR Busch Grand National




Bobby Dotter



Hermie Sadler



Ricky Craven



Jeff Green



Tommy Houston (I have a spare of this one, yikes!)



Steevie Reeves



Kenny Wallace



Ted Musgrave



Terry Labonte



Jerry Nadeau. When I bought this car in July 1995, it was the first time I had heard of Danbury, CT Nadeau. As Danbury is roughly a half hour away, Jerry became my hometown favorite and is one of my top 5 all time favorite drivers.



Chad Little. Little actually won the Daytona Busch race in February of 1995. It was the first time, of only three, all consecutively, that a Busch driver won the season opening Busch race. Randy LaJoie did it again in 1996 and 1997.



Kirk Shelmerdine



Dale Jarrett



Mike McLaughlin



Elton Sawyer



Patty Moise



Rodney Combs- various sponsors



David Green



Jeff Fuller



Jim Bown



Ken Schrader



Tim Fedewa



Jason Keller- this is my favorite Busch scheme of the 90s. You just can't beat the good old Red White and Blue scheme!



Dennis Setzer- note trunk varieties



Kevin Lepage. Many people consider this the ugliest paint scheme of the 1990s; I don't think it's that bad.



Johnny Benson Jr. (1995 Champion)



Derrike Cope



Mike Wallace



Larry Pearson



John Tanner, one of the more obscure drivers to get a car produced.



Phil Parsons



NASCAR Supertruck Series Presented by Craftsman




Butch Gilliland



Mike Bliss



PJ Jones



Mike Chase



Mike Bliss



Mike Skinner



Rick Carelli



Dave Rezendes



Geoff Bodine



Stan Fox



Ron Hornaday



Johnny Benson



Tobey Butler



TJ Clark



Scott Lagassie



Ernie Irvan



Bob Strait



Sammy Swindell



Kerry Teague



Ken Schrader



Steve McEachern



GT Tallas. This truck was issued, I believe, in the basic Hot Wheels line. More in the 1990s than any time else, I got as many Hot Wheels as I could, and I was especially drawn to ones that looked like NASCAR cars. So, I got this one when it was new and figured it was a fantasy car- Hot Wheels makes a ton of them every year, many using racing themes. Then, fast forward to roughly 2006. I find and purchase a book about the history of the Craftsman Truck series. I read the book, and what do I see, but this very truck! It WAS real! And since I knew the track it ran at (Mesa Marin, IIRC) I was able to determine that it was driven by West Coast racer GT Tallas. Tallas ran only a handfull of times in NASCAR's top divisions- he made two Cup starts, most recently in 1973(!) and two truck races, most recently in 1995...in this truck. It was quite a shocking revelation to me!



Bill Sedgewick



Mike Chase



Steve Portenga



Joe Ruttman



Butch Miller



ARCA




Rick Eckert



ASA (American Speed Association)




Dave Sensiba



Bob Senneker