Discussion Starter
·
#1
·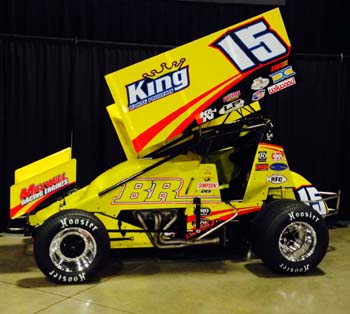 'Blake Robertson return to the seat of a winged sprint car in California aboard the BR Motorsports/King Racing Products house car competing in California's new Race Saver 305 division"
PETERSEN MEDIA: Blake Robertson and the entire BR Motorsports family is excited to announce that they will take part, and field a car in California's new Race Saver 305ci division, and 'Super' Blake Robertson will climb back in the seat of the famous yellow No. 15.
"We are all thrilled to get back racing," Robertson said. "When you work in the industry dealing with parts, teams, and drivers on a daily basis, you get the itch to race, and we thought this would be a great way to get back to racing and support the new division."
Gaining popularity in the Midwest, the Race Save 305ci class will debut in Central California later this summer with the goal of giving California's rich pool of young micro drivers a stepping stone before getting in a full 360ci or 410ci car, as well as offering an alternative division for others to compete in as well.
"With me having a young driver moving through the micro ranks, I think this is a great deal, and hope that it takes off, and is around when he is ready to move up," Robertson added. "We have been busy putting together our car, and we cannot wait to get going."
Robertson has had a storied racing career, as he burst onto the scene earning National Rookie of the Year Honors. Through the years, Robertson has not only driven the BR Motorsports house car, but as also driven for great car owners such as Dennis and Teresa Roth, Duke and Scottie McMillen, Tom Rolfe, Mike Doyle, Paul Silva, Steven Tiner and several others.
Though he hasn't been behind the wheel since the 2010 Cotton Classic, Robertson is sure to pick it up quickly as he has a Silver Dollar Speedway Track Championship under his belt, as well as a numerous wins.
"Our goal with this is to promote the series, and have some fun back at the race track," Roberston said. "We have some great partnerships with various companies that have stepped up and helped us put our car together and we are very thankful for their continued support."
Join the winning team, and align your team with BR Motorsports and King Racing Products!
Have a look inside the BR Motorsports Shop-
Check out King Racing Products-
Check out some exclusive footage of the BR Ignitioneering Mag Room-
BR MOTORSPORTS- BR Motorsports is the world leader in sprint car technology, and your parts superstore for all of your sprint car and midget needs. Our products continue to help lead drivers to victory lane, and are readily available to you. If you do not already receive our annual super parts catalog, make sure and visit
BR Motorsports
to sign up today!
STAY CONNECTED: Stay updated with all of BR Motorsports happenings and new products by visiting
BR Motorsports
or follow us at
BR Motorsports (BRMotorsports) on Twitter
or you can 'like' us on facebook at
Welcome to Facebook - Log In, Sign Up or Learn More
BR Motorsports | Facebook