Discussion Starter
·
#1
·
Turn 4: If the Chase started today, Kyle Larson and Austin Dillon would be the last two drivers in the field. Which rookie has a better shot of making the Chase?
Hinton:
Larson, but in a way it's a tossup. Larson is the better driver but Dillon has the better equipment and support. I've just got to go with Larson, though, because he's more capable of winning a race in the regular season -- and indeed, during the Chase itself. Want my Homestead dark horse already? He's it, although he probably won't arrive there in the Final Four. Ever since Chip Ganassi said he always seems to show up at the end of a race, I've paid attention -- and that's largely true.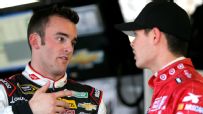 Kevin C. Cox/Getty Images
James:
Dillon has proved himself a productive points-racer, winning the 2011 truck series title with two victories and the Nationwide crown last season with none. Though it is increasingly likely multiple drivers will advance to the Chase by virtue of points standings, the new emphasis on winning seems to play against his strength. Granted, Dillon has seven victories in NASCAR's top three series and Larson has just one, in the Nationwide series this year, but Larson feels more likely to break through in Cup this season after finishing second at Fontana and fifth at Texas.
McGee:
If you'd asked the question last year I would've said Dillon. He established consistency early. But it isn't last year, it's 2014 and this is win-and-you're-in the Chase, so I'll say Larson. I think both drivers have a chance to win a race before the season ends, but Larson is taking the
Kasey Kahne
go-or-blow route while Dillon is taking the more traditional see-you-in-the-second-half approach.
Oreovicz:
I'll take Larson using the same logic I used to answer the Johnson vs. Kenseth question in Turn 2. Larson has just looked more likely to win a race this year, and that's even more impressive when you consider that he has much less NASCAR race experience than Dillon. Whereas Dillon had the benefit of multiple full, championship-level seasons in Trucks and Nationwide, Larson had fewer than 40 stock car starts under his belt before he was elevated into a Cup seat. The great news for NASCAR is that they both should have long careers in front of them, but already have the talent to win races as rookies.
Smith:
Larson. Granted, Dillon has the horse to win Daytona in July so he's a player, too. I believe Larson will win a Cup race this year. He has one of the fastest cars every weekend, and he's among the top 5 more often than not. He's run 11 races. It looks like 11 years. I knew he was good. Anybody who listened to Gordon and Stewart gush over him the past couple of years knew. But I didn't know he'd be this good immediately. The transition to Cup was like LeBron's to the NBA. When you have superior God-given ability, and couple that with the desire to learn and continue to improve, it's special.