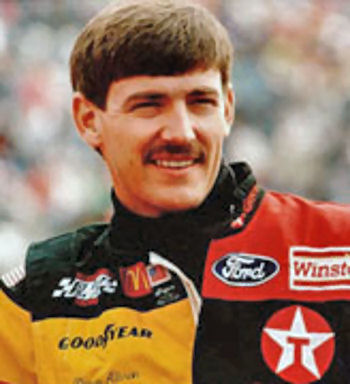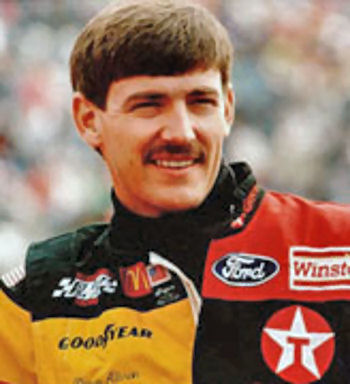 (Photo; insiderracingnews.com)
Davey Allison
February 25, 1961 – July 13, 1993
Born In Hollywood, Florida, USA.
The 1987 Winston Cup Series "Rookie of the Year", and named one of NASCAR's 50 Greatest Drivers, he was best known for driving the #28 Texaco-Havoline Ford for Robert Yates Racing. He was the eldest of four children born to Bobby Allison and wife Judy. The family moved to Hueytown, Alabama and along with Bobby's brother Donnie Allison, family friend Red Farmer, and Neil Bonnett, became known in racing circles as the Alabama Gang.
In his short NASCAR Winston Cup career, Davey Allison competed in a total of 191 Winston Cup Series races, with 19 wins, 92 top ten finishes, 14 poles and earned $6,724,174.
His achievements include; 1992 Daytona 500 Winner, 1991 Coca-Cola 600 Winner, 1987, 1989, 1992 Winston 500 Winner, 1991, 1992 The Winston Winner, 1993 IROC Champion (posthumously), 1987 Winston Cup Series Rookie of the Year, 1983 ARCA Talladega Super Car Series Rookie of the Year, and in 1998 was named one of NASCAR's 50 Greatest Drivers.
On Monday, July 12, 1993, Davey Allison boarded his newly acquired Hughes 369HS helicopter to fly to Talladega Superspeedway to watch family friend Neil Bonnett and his son David test a car for David's Busch Series debut. He picked up another family friend, legendary racer Red Farmer, en route to the track. Allison was attempting to land the helicopter inside a fenced-in area of the track infield when the craft nosed up suddenly, then crashed. The National Transportation Safety Board blamed the crash on Allison's inexperience in helicopters, coupled with the decision to attempt a landing. Neil Bonnett was able to free a semi-conscious Farmer from the wreckage, but Allison was unresponsive and could not be freed until paramedics arrived. Farmer would go on to a lengthy but successful recovery, but Allison never regained consciousness after sustaining a critical head injury. He was pronounced dead at 7:00 a.m. the next morning by a neurosurgeon at Carraway Methodist Medical Center in Birmingham after a procedure to relieve pressure on his brain proved unsuccessful.
Thousands packed the auditorium at St. Aloysious Church in Bessemer, Alabama to pay their respects at his funeral. He is buried near his brother, Clifford, in Bessemer's Highland Memorial Gardens. After the final race of the season, series champion Dale Earnhardt and race winner Wallace drove a side by side Polish Victory Lap carrying flags for fallen drivers Alan Kulwicki and Allison.
Posted by Dave Wheeler
See less
See more
This is an older thread, you may not receive a response, and could be reviving an old thread. Please consider creating a new thread.