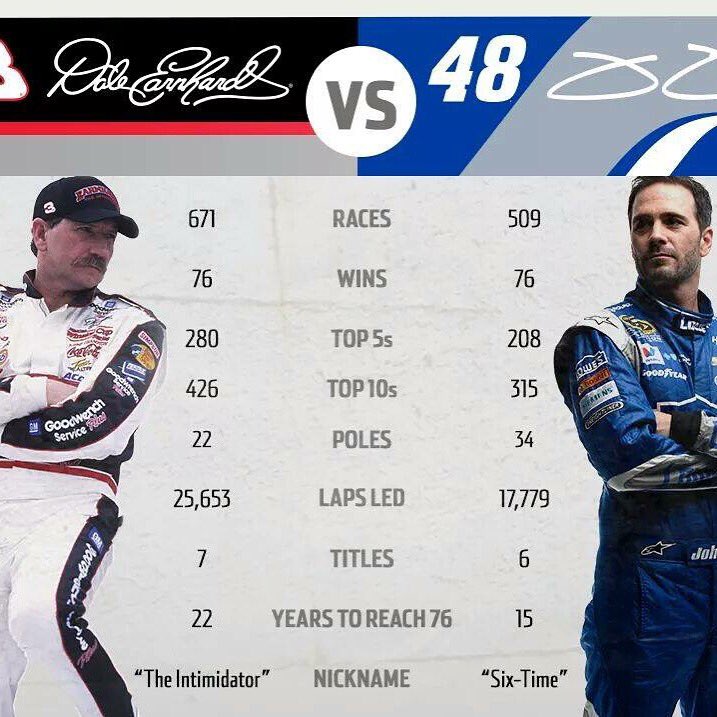 2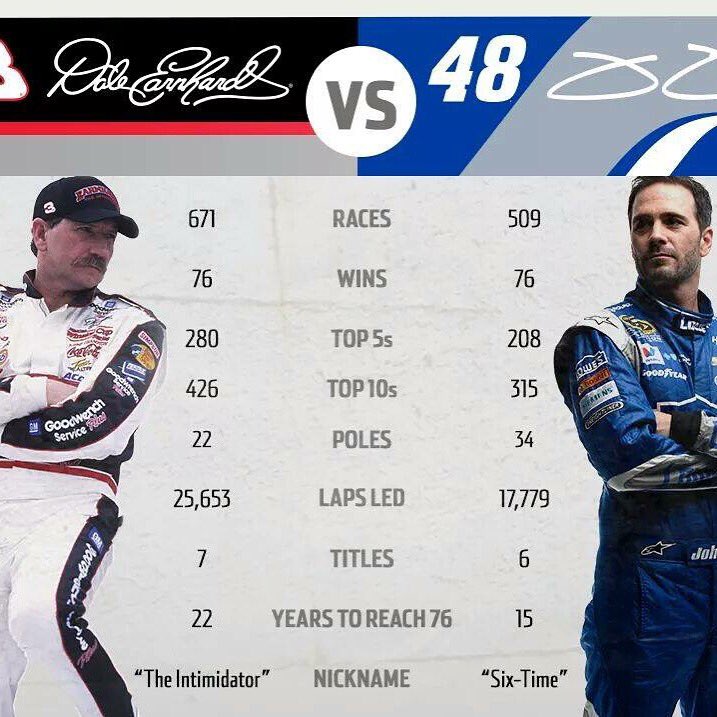 By Jeff Owens

t would be easy to look at Jimmie Johnson's 76th career victory Sunday, which tied Hall of Famer Dale Earnhardt, and conclude that Johnson is now better than Earnhardt was.
A headline like, "Jimmie Johnson now greater than legend Dale Earnhardt," would certainly stir up controversy and attract clicks, not to mention a flood of hate mail.
So would a headline like, "Jimmie Johnson still can't hold Dale Earnhardt's helmet." That would probably get even more clicks, with less hate mail.
But the truth is somewhere in between.
Just because Johnson tied the legendary driver with 76 career victories does not mean Johnson is as good or better than Earnhardt. To immediately jump to that conclusion is to dismiss how great Earnhardt really was.
You could certainly make that case, however, based on sheer numbers.
Earnhardt had 76 wins in 22 seasons, or 676 career starts. He had 281 top-fives and 428 top-10s for an average finish of 11.1
Johnson, who is proud of his latest milestone, has 76 wins in 509 starts, 208 top-fives and 315 top-10s for an average finish of 11.9. Earnhardt led 25,684 laps to Johnson's 17,779.
Both have won all the big races, with Johnson winning the Daytona 500 twice and Earnhardt once. Johnson also has won four Coca-Cola 600s, two Southern 500s and four Brickyard 400s. Earnhardt won the 600 three times, the Southern 500 three times and the Brickyard once. Johnson has dominated Martinsville (8 wins), while Earnhardt owned Bristol (9), Darlington (9) and Talladega (10).
Both have had some big seasons, with Earnhardt winning 11 races in 1987 and nine in 1990. Johnson won 10 in 2007 and seven in 2008 and 2009.
And, of course, you know where they stand in championships — a record-tying seven for Earnhardt, six for Johnson.
And both dominated for long stretches of time. Johnson won a record five straight championships and six in eight years. Earnhardt won back-to-back titles three times.
The key difference is that Earnhardt raced 22 full seasons in NASCAR's top series before he was killed in the 2001 Daytona 500 at age 49. Johnson has raced in only 14 seasons so far, starting in 2002.
They both have also spent the bulk of their careers with the same team. Earnhardt won his first championship in 1980 for Rod Osterlund. He drove two seasons for Bud Moore before joining forces with Richard Childress in 1984. He drove for Childress for the rest of his career, winning six of his seven championships for RCR.
Johnson has spent his whole career with Hendrick Motorsports, having been discovered by Jeff Gordon and driving the No. 48 car co-owned by Gordon and Rick Hendrick.
There are two key distinctions you can make between Earnhardt and Johnson.
One is the level of competition they faced. The other is the championship format under which they raced.
Earnhardt beat legendary drivers to win his seven championships, including Cale Yarborough, Darrell Waltrip, Bill Elliott, Mark Martin and Rusty Wallace. He helped bridge the gap between Richard Petty and the next generation of stars, forging rivalries with Waltrip, Elliott, Wallace and, eventually, Jeff Gordon.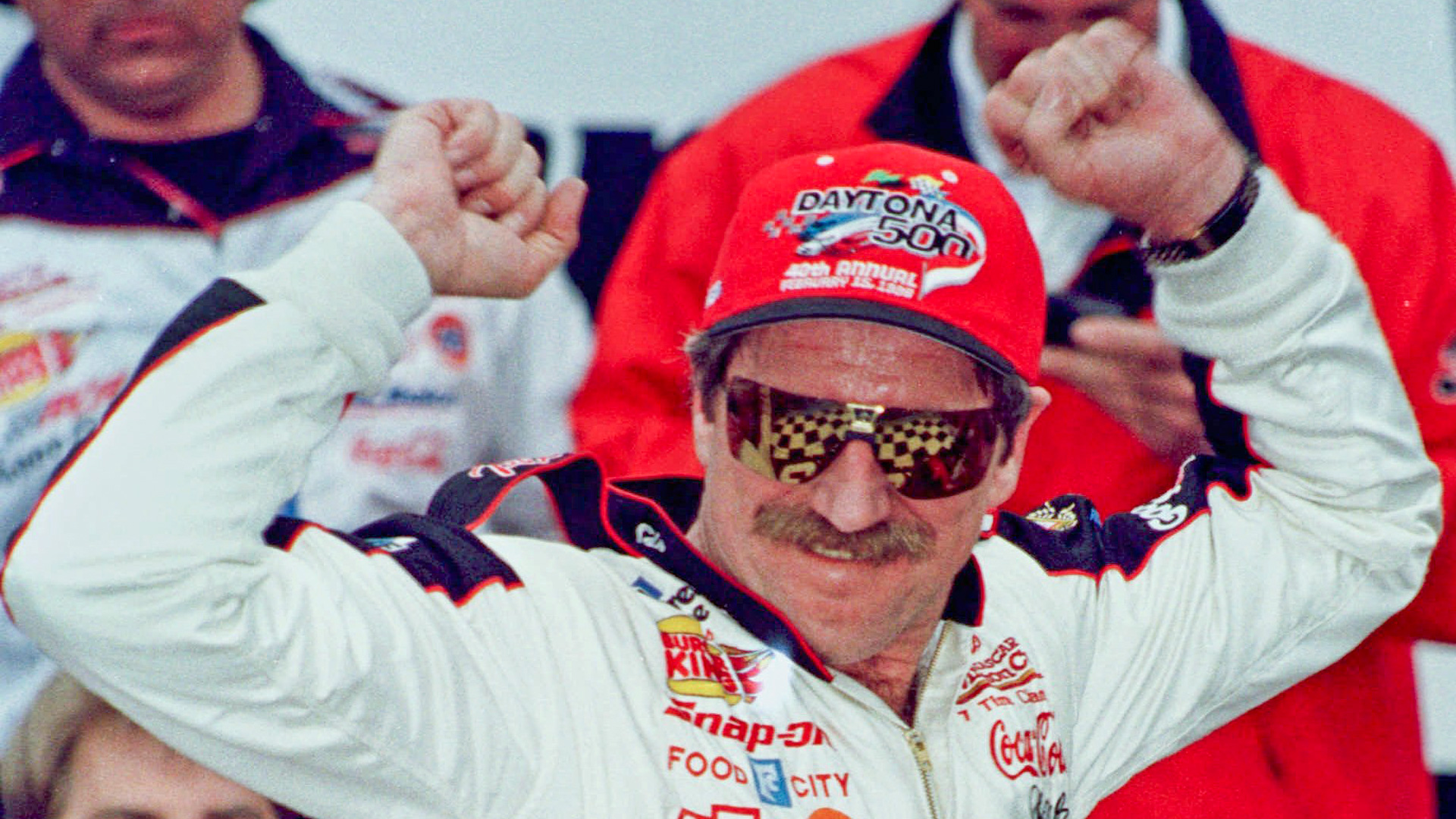 But in the 1980s and 90s, NASCAR did not have the depth of competition it has today. Through most of Earnhardt's championship seasons, he had to beat 10-12 drivers at most to win races, and half that many to win the championship. Today, Johnson faces 20 or more drivers who can win races and a dozen who are legitimate championship contenders.
During Johnson's stretch of five straight titles from 2006-10 — one of the most remarkable records in NASCAR history — he beat five different drivers to win those championships. In fact, the second- and third-place finishers were different every year. Only two drivers during that stretch finished in the top three twice — Gordon and Denny Hamlin.
You could also argue that Johnson mastered a much more difficult championship format. While Earnhardt won all seven of his championships under the traditional, season-long format, Johnson has won his six in the Chase, which was implemented in 2004.
Earnhardt typically built a big lead throughout the season and cruised to the title, often clinching it before the final race. Of his seven titles, only two were close, and four were by 195 points or more, including two by a margin of more than 400 points.
Johnson, by contrast, won all six titles during the 10-race, pressure-packed Chase.
Earnhardt, however, faced a different kind of pressure. During his heyday, he was the face of NASCAR; the sport's most popular driver and most influential star. He was expected to carry the torch. He had an image, a reputation and a mass following to live up to, making him a marked man and the driver to beat each season. Those responsibilities brought a different brand of pressure.
Johnson's biggest challenge in that regard has been combating resentment and negative fan reaction.
By contrast, Johnson has also faced a different kind of pressure. Throughout much of his career, he has been widely accused of cheating, with his No. 48 team facing intense scrutiny from NASCAR, fans and even rival teams. While he has been penalized for rules infractions, the sport is much more technical these days, and the rules much more strict.
While Earnhardt didn't have the benefit of engineers, simulators and telemetry, his car wasn't subject to the acute, regimented inspections teams face today.
So who was/is better?
There is no right or wrong answer ... for now.
Johnson will soon surpass Earnhardt in wins. And at age 40, he still stands a good chance of matching Earnhardt's seven championships. Unless he fails to win a seventh title, Johnson almost certainly will finish his career as the greatest driver ever.
But we don't get to have that discussion now. Not yet.
For now, Johnson's 76th career victory is just another significant milestone — but one that raises considerable debate.

Is Jimmie Johnson now better than Dale Earnhardt?
See less
See more
This is an older thread, you may not receive a response, and could be reviving an old thread. Please consider creating a new thread.