4

(photo credit: IndyCar-030 via photopin(license))

Mario Andretti, February 28, 1940, Born in Montona d'Istria, Italy
Mario and twin brother Aldo, were born in Italy, where they were inspired by watching the great Alberto Ascari race at Monza. The twins' mother Rina said that when they were two years old, they would take pot lids out of the cupboards and run around the kitchen, going "Vroom, vroom," like they were driving cars, this before they had seen a car. In 1945, at the age of five, he and Aldo were racing their hand-crafted wooden cars through the steep streets of their hometown. After World War II Istria was occupied and annexed by Yugoslavia. His family, like many other Italian Istrians, fled in 1948. They lived in a refugee camp from 1948 to 1955. The family settled in Nazareth, Pennsylvania and the brothers discovered racing on an oval track in their home town. Later, the brothers were hired by a garage to park cars, Andretti described the experience in his book What's it like out there: "The first time I fired up a car, felt the engine shudder and the wheel come to life in my hands, I was hooked. It was a feeling I can't describe. I still get it every time I get into a race car."
Andretti's first racing experience was in a new youth racing league called Formula Junior in Ancona, Italy when he was thirteen years old. He had two fond childhood memories of watching a stretch of the Mille Miglia race in 1954 which caused him to become captivated by Italian two-time Formula One world champion Alberto Ascari, who won the race, which got him to go to Monza for the Italian Grand Prix, where he saw Ascari and Juan Manuel Fangio race against each other.
Mario and Aldo were surprised to find a half-mile dirt racing track when they moved to Nazareth. The twins rebuilt a 1948 Hudson Hornet into a Sportsman modified in 1959, funded by money that they earned in their uncle's garage in 1959.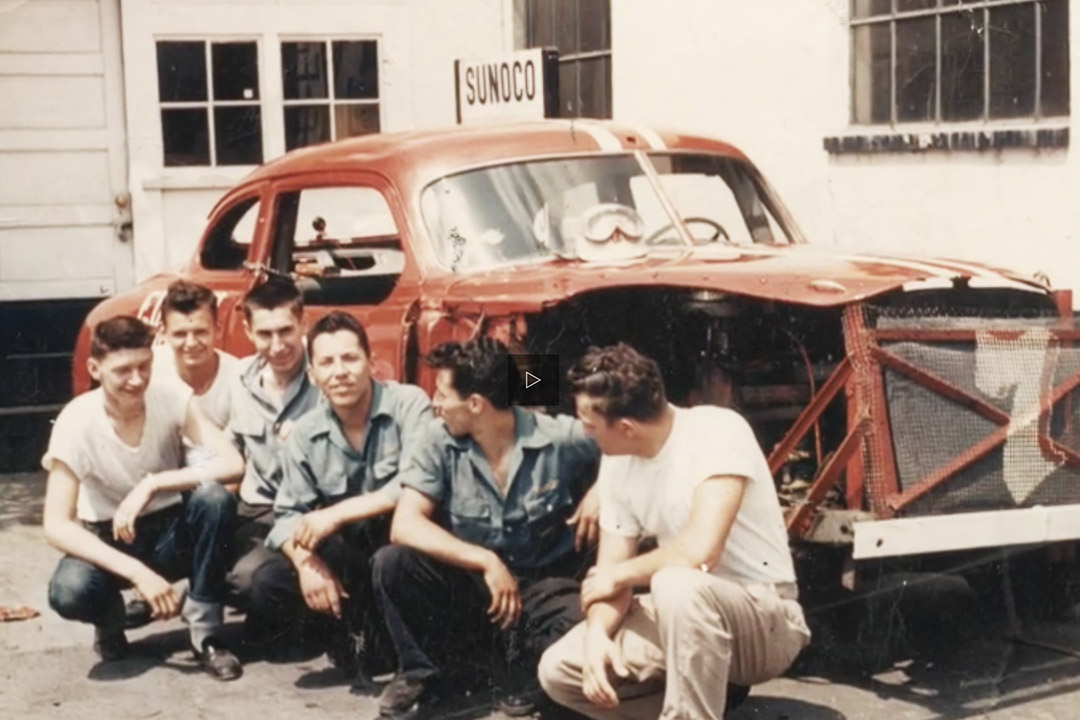 (Photo credit; www.motor-talk.de)
They flipped a coin to see who would race in the first race. Aldo won the coin toss, the heat race and the feature. They took turns racing and each had two wins after the first four weeks. They did not tell their parents that they were racing. Aldo was seriously hurt near the end of the season, and their parents were unhappy to find out that the twins were racing. Aldo fractured his skull, he recovered from his coma, and returned the following season.
Aldo continued racing on the USAC and IMCA circuits, but in 1969 Aldo suffered severe damage to his face after crashing into a fence, and quit racing. His face had 14 fractures to his facial bones. Mario described the accident in his book What's it like out there: "Aldo continued racing until August 17, 1969, when he had an accident, which was not his fault, in an IMCA sprint race at Des Moines, Iowa. He was driving a sprint car that I had bought for him."
(Photo credit; www.t-online.de)
Aldo is the father of John Andretti and Adam Andretti. Both of Mario Andretti's sons, Michael and Jeff, were IndyCar racers. Michael followed in his father's footsteps by winning the Indy Car title. With John joining the series in 1988, this meant that the Andretti's became the first family, to have four relatives compete in the same series.
Mario had 21 modified stockcar wins in 46 races in 1960 and 1961. Andretti's goal was to race in single-seater open wheel cars. Andretti said "Aldo and I were winning in the modifieds. But my objective was to get into open-wheelers." Andretti raced midget cars from 1961 to 1963. He started racing 3/4 midget cars in the American Three Quarter Midget Racing Association in the winter to be seen by full-sized midget car owners. He raced in over one hundred events in 1963. Andretti won three feature races at two different tracks on Labor Day in 1963. He won an afternoon feature at Flemington, New Jersey, and swept twin features at Hatfield, Pennsylvania.
The next rung on the racing ladder on the East Coast of the United States was to race in sprint cars in the United Racing Club. Andretti was able to get a ride for individual races in the URC sprint car racing series, but was unable to secure a full-time ride. He once drove from Canada to Mechanicsburg, Pennsylvania hoping to find a ride in an event, but he went empty-handed. He bypassed the series when he was offered a full-time ride in a United States Automobile Club sprint car for 1964.
Andretti won the 1964 Joe James-Pat O'Connor Memorial USAC sprint car race at Salem Speedway in Salem, Indiana. Andretti continued to race in USAC sprint cars after moving into champ cars. In 1965 he won once at Ascot Park, and finished tenth in the season points. In 1966 he won five times, but finished behind Roger McCluskey in the season championship. In 1967 he won two of the three events that he entered. He won a USAC Stock Car race in 1967, and finished seventh in the season points.
Andretti competed in fourteen NASCAR Grand National/Winston Cup events in his career. He competed in Holman Moody cars for his final ten events. Holman Moody was one of NASCAR's most successful teams at that time, as the team won NASCAR championships in 1968 and 1969 with driver David Pearson. Andretti won the 1967 Daytona 500 for Holman Moody.
Andretti was invited to race in six International Race of Champions series in his career. His best years were his first three years. He finished second in the final points standings in IROC III (1975–1976) and IROC V (1977–1978). He won the IROC VI (1978–1979) points championship with finishes of third, first, and second. He won three races in twenty events.
Andretti won three 12 Hours of Sebring endurance races (1967, 1970, 1972), and the 24 Hours of Daytona in 1972. In early sportscar races he competed for the Holman Moody team, but later often drove for Ferrari. He signed with Ferrari in 1971, and won several races with co-driver Jacky Ickx. In 1972 he shared wins in the three North American rounds of the championship and at Brands Hatch in the UK, contributing to Ferrari's dominant victory in that year's World Championship for Makes. He also competed in the popular North American Can-Am series in the late 1960s and early 1970s.

971 Ferrari 712 Can-Am
Silverstone Classic Endurance Car Racing - September 2009
(photo credit: 1971 Ferrari 712 Can-Am via photopin (license))

Andretti competed at the 24 Hours of Le Mans in four decades. In 1966 he shared a Holman Moody Ford MKII with Lucien Bianchi. They retired after their car dropped a valve at 10:30 pm In 1967, during a 3:30 am pit stop, a mechanic inadvertently installed a front brake pad backward on his Ford MkIV. As Andretti passed under the Dunlop Bridge before the Esses, he touched his brake pedal for the first time since leaving the pits. The front wheel instantly locked, turning the car hard into the dirt embankment at 150 mph. The wreckage slid to a stop with Andretti badly shaken, the car sideways to oncoming traffic and the track nearly blocked. His teammates, Jo Schlesser and Roger McCluskey, crashed trying to avoid Andretti's car. McCluskey pulled Andretti to safety, and Andretti was taken to hospital for X-rays.
Andretti did not return to Le Mans until his full-time Formula One career was over. In 1982, he partnered with son Michael in a Mirage M12 Ford. They qualified in ninth place, but the pair found their car being removed from the starting grid 80 minutes before the start of the race, as an official discovered an oil cooler that was mounted behind the gearbox, which was against the rules. The car had passed initial inspection four days before the race. Despite protests and complaints, the Andretti's entry was removed altogether. Their return in the following year was more successful as they finished third. The father/son team returned in 1988 with Mario's nephew John. They finished sixth in a factory Porsche 962. Following Mario's retirement from full-time racing, he decided on a return to the circuit to add a Le Mans victory to his achievements. He returned in 1995 with a second place finish. He said in a 2006 interview that he feels that the Courage Compétition team "lost five times over" through poor organization. He had unsuccessful efforts in the following years with a thirteenth place in 1996, and then a DNF for 1997. Andretti's final appearance at Le Mans was at the 2000 race, six years after his retirement from full-time racing, when he drove the Panoz LMP-1 Roadster-S at the age of 60, finishing 16th.

posted by Dave Wheeler
See less
See more
This is an older thread, you may not receive a response, and could be reviving an old thread. Please consider creating a new thread.